Pyjamas donated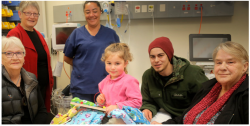 Ava Wikotu, 3, sits surrounded by donated pyjamas. The adults around her are, from left, Marion Davenport, Di Haynes, nurse Melissa Houltham, her dad Jordan Wikotu and Ruth Beadle. Monday, August 15,
Colourful, cuddly children's pyjamas are just the right gift for Whanganui Hospital's Children's Ward, paediatric nurse manager Janene Louwrens says.
The ward was given pyjamas in a range of sizes by the Returned Services Association's Steady As You Go (SAYGo) group on Monday.
The older people meet weekly for an exercise class focusing on strength and balance. They pay a weekly fee and had money left over after paying their costs.
They wanted to make a donation that would benefit children, member Ruth Beadle said.
Age Concern's Janet Lewis, who co-ordinates SAYGo, is pleased and proud of the way the initiative has grown. She started four groups a year ago and there are now 14 across the region, most run by the members themselves.
Ms Louwrens said there were lots of children in Whanganui who needed pyjamas, and they would be allowed to take them home when they left hospital. Most of the children admitted to the ward's eight to 12 beds have respiratory problems such as pneumonia, bronchiolitis, bronchitis and asthma.
The children's ward is usually overflowing in winter, she said.
"Pneumonia has been bad for the last few months. It's good to have homes insulated and things like that, to prevent it."
On Monday there were only two babies in the ward, both with bronchiolitis and too ill to be photographed. Three-year-old Ava Wikotu was visiting her mother, who has just had a baby. She and her dad got into the picture instead.
By Laurel Stowell