CarFit-more dates available soon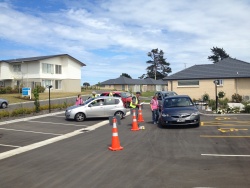 CarFit - Ill fitting vehicles can make driving uncomfortable and unsafe…
What kinds of adjustments are part of the CarFit checklist?
 Clear line of sight over the steering wheel
 Plenty of room between driver's chest and the front airbag and steering wheel
 Driver's seat that fits comfortably and safely – giving easy access to controls
 Properly adjusted headrests
 Easy access to brake pedals
 Seatbelt adjustment that holds the driver in position and comfortable for driving
Aims
 CarFit can make drivers more comfortable and safe
 CarFit can help open a dialogue with drivers about safety issues as they age
How long does a CheckUp take?
About 15 – 20 minutes
Why was CarFit developed?
CarFit was created by the American Society of Aging and developed in collaboration with
the AAA (American Automobile Association), AARP and the American Occupational
Therapy Association (AOTA).
Based on follow-up surveys of checklists completed at events held in 10 American cities,
more than a third (37 percent) of programme participants had at least one critical safety
issue that was addressed.
One in 10 participants was seated too close to the steering wheel, and about 20 percent
did not have a proper line of sight above the steering wheel.